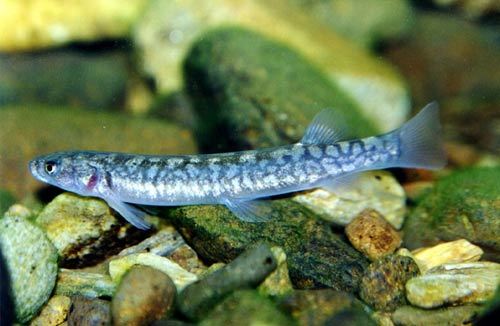 The kōaro (Galaxias brevipinnis) is an excellent climber with specially adapted broad fins that have a grippy texture underneath. It is capable of climbing vertical waterfalls. This solitary, nocturnal fish is usually found in fast-flowing, cool, tussock or forest streams.
Living for 15 years or more, the kōaro travels as far as 400 km inland and can climb as high as 1,300 m.
Like the kōkopu, the kōaro can lay its eggs amongst leaf litter in forested streams during high flows but is also known to lay eggs amongst cobbly substrate within the stream. The hatched larvae then float out to sea where they live and grow over winter, migrating back upstream as whitebait in spring. However, some kōaro can 'lake-lock' and carry out their entire life cycle in freshwater – this is termed lacustrine. Kōaro have a multitude of lacustrine populations nationwide.
Acknowledgement: Stella McQueen