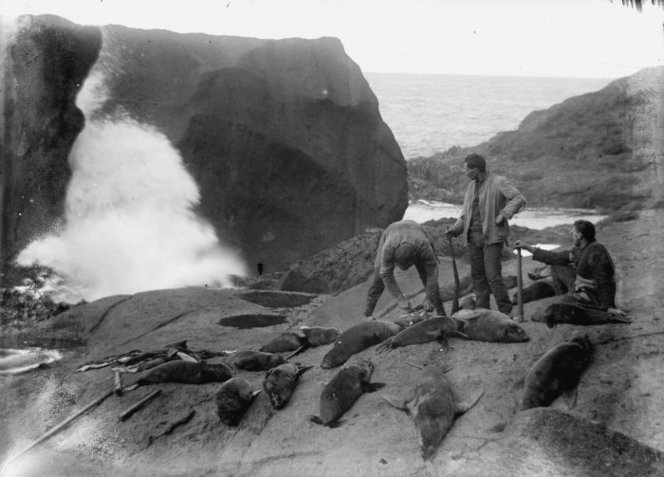 Commercial hunting decimated New Zealand's seal and sea lion populations during the early 19th century. Although New Zealand sea lions were once common throughout all of New Zealand, the Auckland Islands are now the main breeding ground for these rare animals.
Great white sharks are known predators of New Zealand sea lions, and a number of adult sea lions have scars that appear to be the result of close encounters with great white sharks. It is likely that other causes such as disease and the impact of squid fishing have resulted in the dramatic decline in sea lion numbers in the last 10–12 years.
What measures might further help the New Zealand sea lion population to recover?
Acknowledgement: Men with clubbed seals, Campbell Island. Judd, Norman: Photographs of Southern Islands; glass negs, photographs, postcards, all of Campbell Island; print of old hut, print of albatrosses. Ref: 1/2-100388-G. Alexander Turnbull Library, Wellington, New Zealand. http://natlib.govt.nz/records/23130231